Our guild has a wide variety of activities. Not only do we like to teach quilting techniques, new and old, meet each other in friendship and quilt, we like to touch the community as well. In addition to our own activities, we support several charities.
RONALD McDONALD HOUSE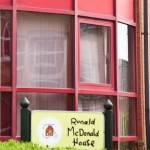 One of the charities of which we are most proud is our contribution and relationship with the Ronald McDonald House. The Ronald McDonald House provides care comfort and support to families and children and provide a home away from home when a child is being treated at a nearby hospital. We ask our members to make two children's quilts a year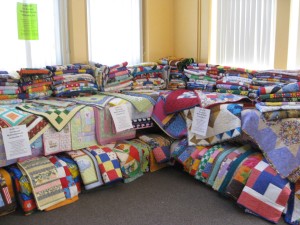 . We donate the quilts to the children in the Ronald McDonald House in Danville, PA. The guild members also make pillow cases, table decorations and Christmas stockings for RMD House children. The children pick a quilt that they can take with them to the hospital and then home. We supply materials and patterns for many of these quilts. Quilts are displayed at out monthly meetings "show n tell" so that we all can be inspired. The picture on the right is a waterfall of RMD quilts made by the members.
The pictures below represent the process of the hard work Rita and Kathy put into making kits the members can use to make the RMD quilts. We appreciate their dedication.





COMMUNITY CUPBOARD
HCQ is also proud to support the community by supporting our neighbors in need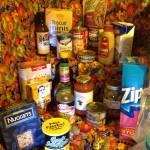 . Every month, HCQ members donate grocery store items to a food pantry or organization. Grocery items suggested by the chairperson are brought to the meeting each month and delivered to the food pantry assigned for the month. The guild also donates a gift certificate to the food pantry to purchase other needed items.
SILVER SPRING-MARTIN LUTHER SCHOOL
HCQ collects items in November and December every year for Christmas gifts for the Silver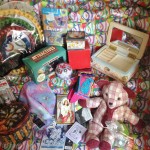 Springs-Martin Luther School children. A needs list is provided by the school and is included in the November and December newsletters. We also donate gift certificates to Target, Walmart and grocery stores. Campbell Soup Labels for Education are collected and given to SS-MLS, as well.
RECYCLE ROOM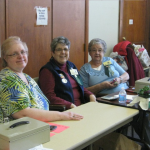 We help our fellow quilting and crafting enthusiast by offering quality fabric, patterns, books and other sewing and craft supplies at a reduced price during our Bi-Annual Quilt Show. Pat Cisek, Peg Michener and Rita Fillinger waiting for customers in the Recycle Room at QS 2013.
4-H Fair

The raffle quilt was sewn by Marianne and hand quilted by Connie, Phyllis, Marianne, and Lillian. Pictured here quilting the 2019 Quilt Show Raffle Quilt. Hard working talented ladies.
HCQ members organize the display of quilts for the 4-H Fair during the second week of August each year. In the even year, HCQ sews a raffle quilt for 4-H. All the proceeds from the raffle is given to the 4-H Foundation. The 4-H Fair is the culmination of the 4-H project year for Montgomery County 4-H members. This is their opportunity to show their families, friends and the public their achievements throughout the year. All quilters are encouraged to enter. You do not need to be a Montgomery Co. resident or HCQ member. This is a great opportunity to show off your talents! A giant fabric sale is ongoing during the fair and is coordinated by the Creamery Crafters 4-H club.
4-H Fair Quilting Categories available are: This information is being revised, check back later.
The categories are: Bed quilts, Lap or Crib size Quilts, Wallhangings, Accessories Be sure the bed size quilts have a sleeve for hanging. There is a link about how to make a quilt sleeve in the Member Information tab. The quilts can be machine or hand quilted. A Viewer Choice Award will be given in each category.
Pick up and drop off will be listed as it is revised.
Redner's Market Register Tapes
Redner's Market register tapes are collected and redeemed for the HCQ treasury.
Rada Cutlery
Rada cutlery is made in the USA. The cutlery is offered for sale to HCQ members at every HCQ meeting, the 4-H Fair and HCQ Quilt Shows.