HCQ is excited to announce – Meg Cox the speaker at the May 10th meeting.
Author and quilter Meg Cox is a sought-after speaker and teacher at guilds and museums and a staff writer for Quiltfolk magazine. Her journalism has been published by dozens of national magazines and the Wall Street Journal, where she was a reporter for 17 years. A past president of the nonprofit Quilt Alliance, Meg serves on the advisory board of the International Quilt Study Center & Museum and is the author of a resource guide, The Quilter's Catalog (Workman Publishing). www.megcox.com
Making Meaning: How Quilters Celebrate Life
A fun, inspiring lecture that changes lives. An author of 4 books on family tradition, Meg Cox shares examples of quilters' celebrations but also shows powerful (and quirky) ideas from her own life. She shares what she has learned in 20 years of research about what makes traditions and celebrations unforgettable. You will leave with concrete ideas about how to mark milestones and live everyday moments more deeply. This talk also includes a trunk show element with quilts and other items.
Channel 39 LVTV Report on the Quilt Show.
www.wlvt.org/blogs/montgomery/homemakers-country-quilt-show-returns-to-montco/
We are making progress, from an empty room to lots of fabric measured and marked. Everyone is happily measuring and organizing.
This conglomeration of fabric and sewing notions will soon turn into a great Recycle Room at the quilt show with the help of these and many other hard working women!
HCQ is very proud to present a Quilt of Valor to Grace Bergman the oldest PA Marine who served in WWII. Co-President, Nancy McCormack, sewed the quilt for Grace. Read the story in the link below. More Quilts of Valor can be seen at our upcoming Blooms of Spring Quilt Show.
Quilt of Valor presented to 103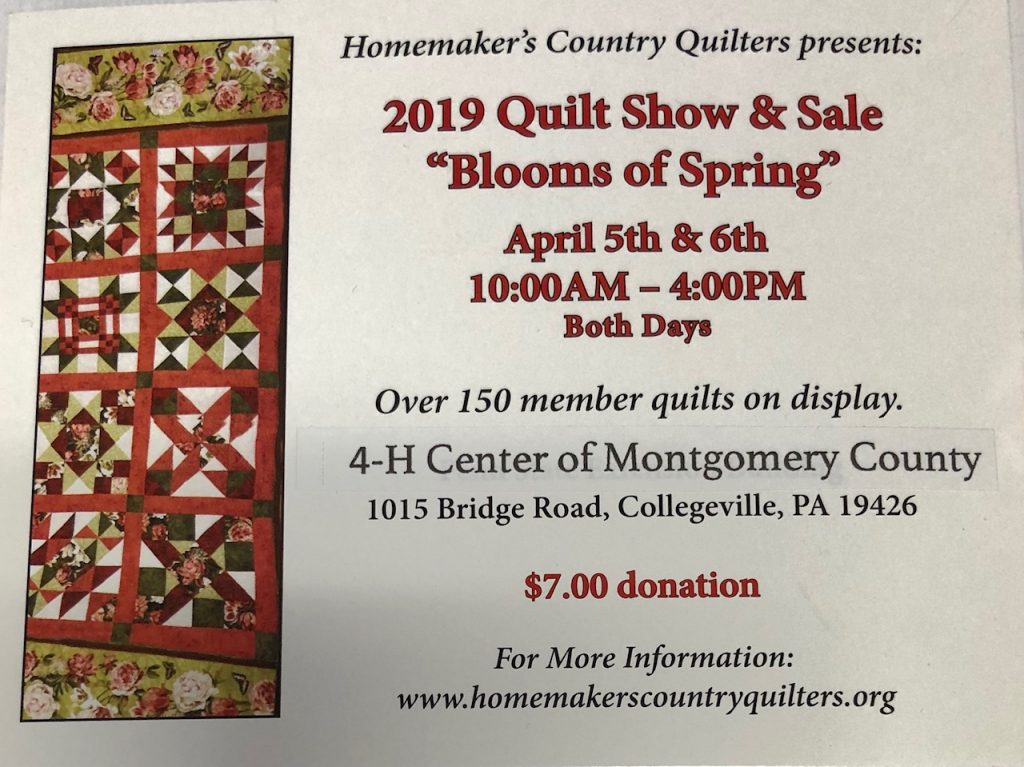 Quilt Show and Sale 2019 "Blooms of Spring" is set for April 5 and 6, 2019, save the date. It will be awesome! Advanced tickets are on sale, contact: homemakerscountryquilters@gmail.com.
"Poetic Blossoms" is the raffle quilt for the 2019 quilt show. A sampler quilt with beautiful flowers. Hand quilted by our talented ladies. Get your tickets now.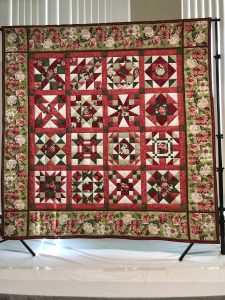 TERRY KRAMZER WORKSHOP in October.
In September 2017, Terry Kramzer gave a lecture to HCQ and there was quite a bit of interest in having her back for a workshop.The workshop was a success, look at all the beautiful creations.
Farm, Home and Youth Foundation Auction A picture of HCQ Basket of Cheer for the Auction!
Farm, Home, and Youth Foundation Fair – August 9-11th at the 4H Center at 1015 Bridge Rd. Collegeville, PA. Pictures from the fair. Thank you all who helped set up the room and entered a quilt. The room was jammed packed with beautiful quilts!
Besides the beautiful quilts, we had fun activities for the children to try their hand at creating quilts with foam pieces and fabric squares.
Our future quilters!
September 14, Carol Singer will be giving a Machine Quilting Workshop.

The workshop will include free motion quilting, walking foot and straight line quilting. There will be a $5. fee for members, signup at the meeting. Non-members are welcome if space is available, signup by emailing homemakerscountryquilters@gmail.com fee for non members is $27.00 which includes the guest fee for the September meeting. This class is planned so you will have enough time to quilt your quilts in time for the quilt show in April.




















Retreat Scheduled – June 25 – June 29 at the Cocalico Quilter's Inn in Denver, PA. The 18th-century Peter and Elizabeth Bricker farmhouse — one of West Cocalico Township's oldest structures — has been converted by a local contractor into the Cocalico Quilter's Inn. The 4,600-square-foot-plus, 21⁄2-story building — with eight bedrooms, six baths, fully stocked kitchen, courtyard, porch and large quilting area on the main floor.
Quilts of Valor – The ladies sewed 171 Quilts of Valor blocks to be incorporated into QOV quilts for our veterans. So proud that the woman did such a fantastic job. Here are pictures of the blocks.
Angie will be giving a workshop on a fat quarter friendly really BIG BAG in March, after the meeting. Here is a picture of Angie and the bag. Sign up at the February meeting.
Helen's acquaintance, Carol Miranowski, donated many quilt tops to HCQ to be used for a silent auction for our members at the December meeting. All beautifully made. The silent auction was a big success.













Kathy Graff instructs us on the construction of the quilts for Ronald Mc Donald.






Pictures from the Fall 2017 trip to the refurbished RMD Family Center in Geisinger Hospital.








Pictures from the 4H Fair 2017
Hope you are able to come to the 4H Fair. If not, enjoy the show online.
The ladies and gentleman who put the show together. I missed Pat Miesse who also helped. Thank you all!
Farm, Home and Youth Foundation of Montgomery Township received a check for $9,000.00 from Homemakers Country Quilters in May. Our successful and prosperous quilt show in the spring allowed the guild to share our profit. We are grateful for our partnership with this fantastic organization. Merrill Ruth, President of the board, is holding a large version of the check.
This spring, guild members traveled to Ronald Mc Donald House in Danville to give them our RMD quilts we made the last two years for the children in the RMD house. The guild members sewed 124 quilts, 195 pillowcase, and a big tub of shampoo, 2 tubs of toiletries, a tub of can tabs were delivered to RMD house. They appreciate all of our donations.
The May meeting was a comedy routine with quilt slow information sprinkled in by our speaker, Mark Lipinski. We laughed our way through his quilt journey. His message; slow down, enjoy your quilting, find new pleasure in challenging yourself with new techniques and reawaken your passion for quilting. A wonderful way to end a fantastic two years! Thank you to our Executive Board for doing just that, reawakening our passion for quilting.
Our 2017 Quilt Show Viewer's Choice Awards
Thanks to Warren, HCQ's handyman, Jeannie's HCQ apron is framed and hung in the Walnut Room. He made the beautiful frame for the apron. Evelyn's quilt show pins are now displayed as well.
First picture of the 2019 Quilt Show First Place Prize Raffle Quilt, "Poetic Blossoms" already in the quilt frame!

Second Place Prize for 2019 Quilt Show is a quilt
pieced by the late Rosie Mutter.

Quilts for the 4 H Fundraiser in April
Nannette machine quilted a quilt for the 4 H fundraiser.



HelenMarie sewed a quilt for the 4 H fund.
Starlight Surprise Workshop
by Sally Rapp, a former HCQ member, was held after the January meeting. Some of the Starlight Surprise quilts completed by our members.
New Hexie Workshop in November presented by Jeannie Flynn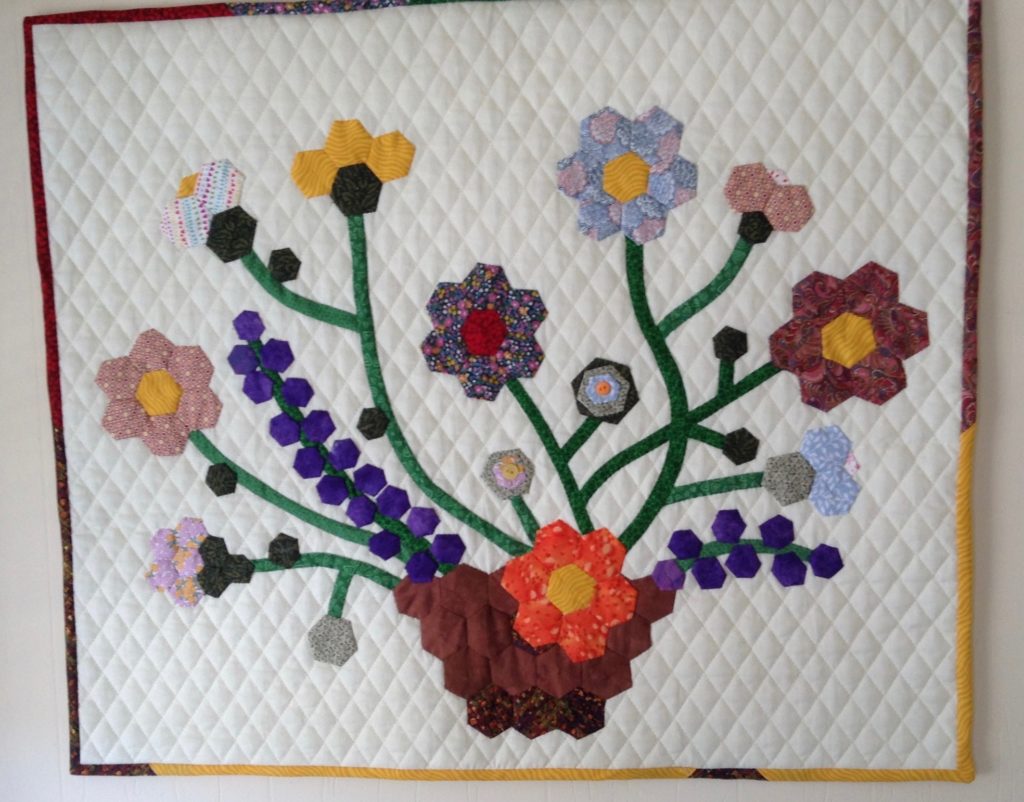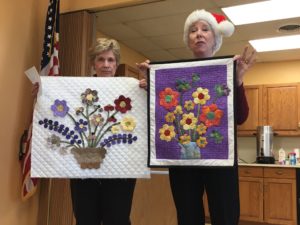 Twisted Table Runner Workshop – We enjoyed the workshop Judy taught in October. Judy is an excellent teacher. After the detailed cutting process, the runner sewed very quickly. Each different yet beautiful.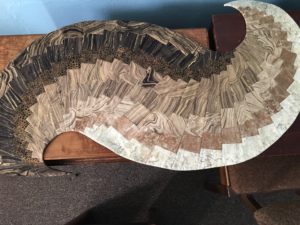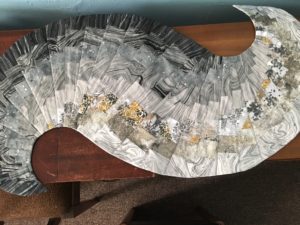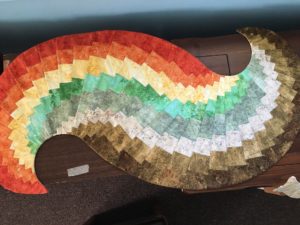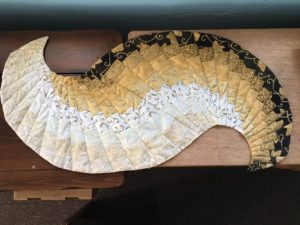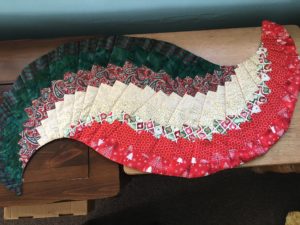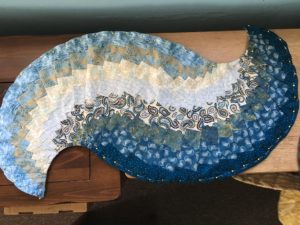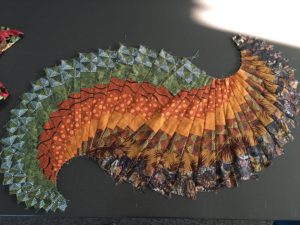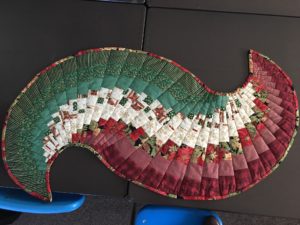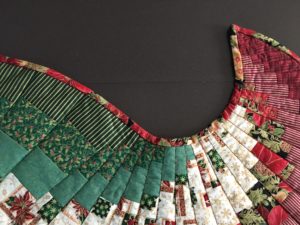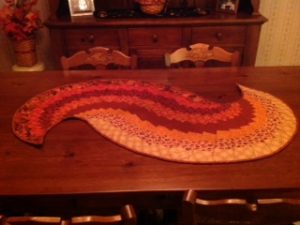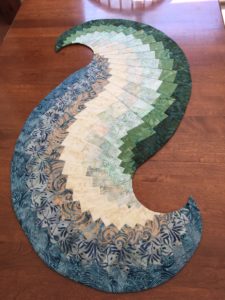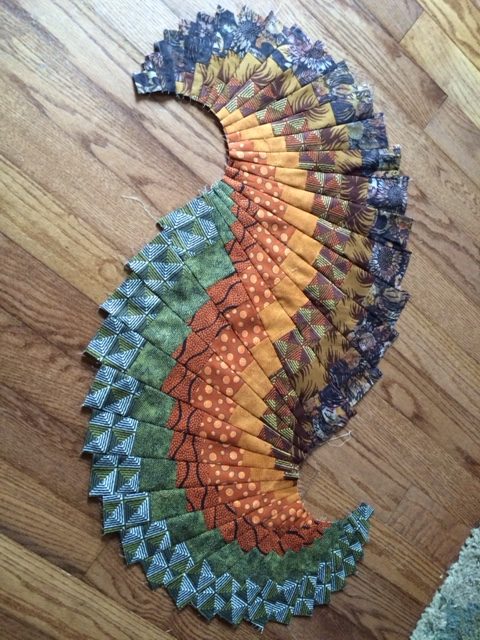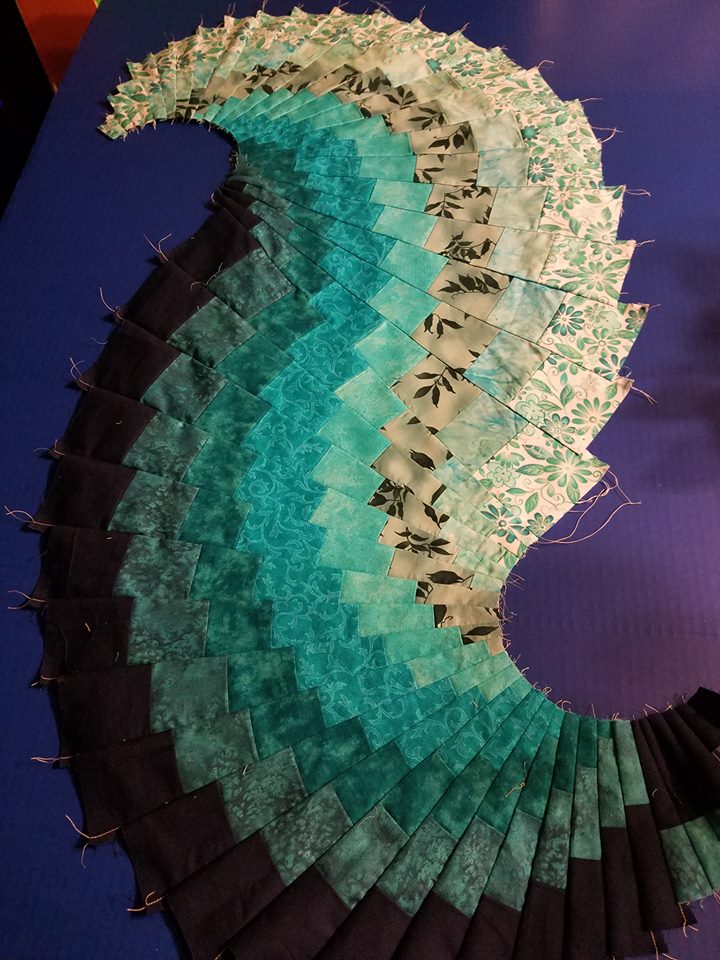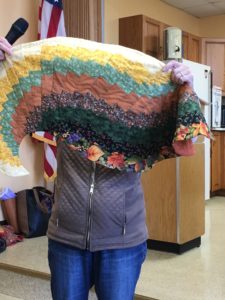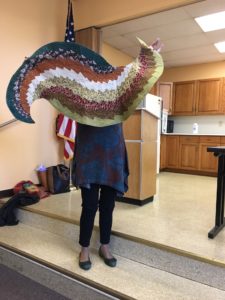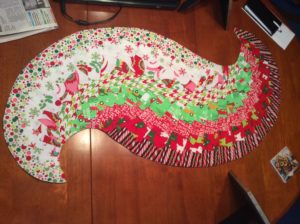 Ahead of the game – The first picture of the 2019 Raffle Quilt!!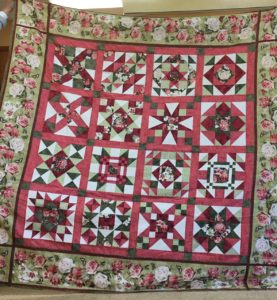 Fabricpalozza!! The Measure and Mark Party to jump start the measuring for the Recycle Room at the quilt show was quite a success. We had 23 ladies, 3 of the new members, and 2 guys come in and work very hard. Over 100 hours of time was spent during the 3 weeks. See you in February for more Measure and Mark fun. Great job! Thank you all! We will be accepting more fabric at each meeting. Time to clean out your stash ladies. Some pictures of the boxes full of measured fabric.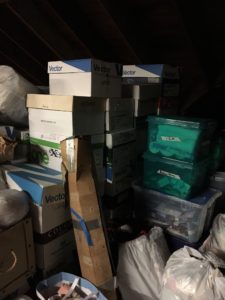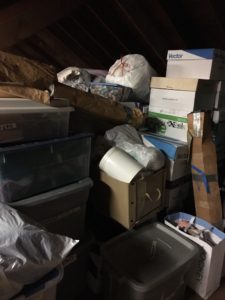 4-H Fair 2016 – Many people visited the Quilt Room during the 4-H Fair in August to ohh and ahh over the wonderful quilts. Now you can enjoy HCQ members' beautiful quilts too.
The set up team working hard.
The beautiful 2017 4-H Raffle Quilt in the frame to be quilted. Can't wait to see it next year.